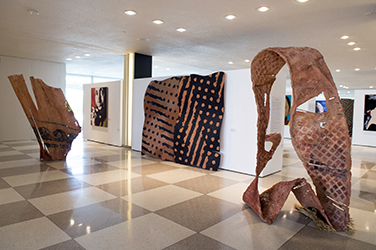 Censorship in contemporary art?
TRIBUTE TO TRADITIONS,
A POLYPTYCH IN CONTEMPORARY ART
On the threshold of perceptions
Fresco painting as a discipline

BIBLIOGRAPHY
Fresco painting as a discipline
I remember that, as a young boy, I have been always fascinated by frescoes paintings.
I am born in Naples and I often visited Pompei and Ercolano with my father, a lover of Greek and Roman art. He was telling me stories from Greek mythology, explaining the iconography of ancient gods and heroes, while my eyes were mainly caught by the glittering of small pieces of glasses that, here and there, at times, emerged through the rough and uncertain colours of the old plaster.
Fresco is an antique technique of painting and is quite simple.
Sand, slaked lime and mineral pigments are the basic elements of fresco.
Sand and slaked lime are mixed in different proportion to make a plaster that is applied in thick layers on a suitable support. Thin layers mineral pigments, mixed with pure water are applied while the plaster is still wet, till the desired shade of colour is obtained.
With the fall of the Roman Empire also fresco painting decayed to be reborn to new life with Giotto in the XIII century.
The executive processes became more and more complex with the developing of a new artistic conception and with the expressive requirements of the masters from Masaccio and Piero della Francesca to Michelangelo till Pontormo and Rosso.
In Fresco, more than in any other technique, the material substance takes part in the artistic expression with a vitality of its own, fluently flowing through the plaster, the pigments, the water carrying these last ones on the surface and the air that carbonates them.
It is a vitality radiating stillness behind time that often fills the mind of the observer with a state of contemplative suspension.
Looking at the total irrationality in contemporary world where art can be anything and its opposite, I prefer to focus on fresco painting as a discipline where intuition and intellect move together in the pathless land of colours as essence of energy for a serene observation of reality...
Exhibition at " De Galeriet" , Delden
The Netherlands , January 2006