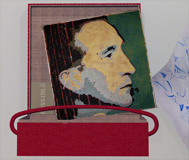 Marcel Duchamp,

Boîte-en-valise.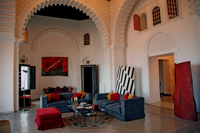 ARABIAN SUITE
SHAMAN, perform a miracle!

In SHAMAN, perform a miracle!, a votive installation dedicated to Joseph Beuys, using a touch of irony, Fabrizio Ruggiero focused on the inborn contradictions of the process put into existence by some dealers and speculators in the Contemporary Art System in order to convert artists into financial assets by metamorphosing them into Stars of the Art System.

Beuys promoted a change in society as a whole by his term Soziale Plastik, Social Sculpture to illustrate his idea of art's potential to transform society
The system of contemporary art does not promote a general change to the world or to visions like that proposed by Josef Beuys.
In the context of the system of art, aesthetics and ethics come into conflict;referring not only to the integrity of the individuals and to their social competence, but also to the understanding of an artist in relation to his artistic creation and the integrity of his production.
The conduct of an artist and the works produced in such a way should be a good example for society and its elite to reshape terms such as Ethic, rather than producing speculative bubbles.
SHAMAN, perform a miracle! Installation elements:
The Shaman, Joseph Beuys fresco portrait.
Fresco on wooden panel cm. 130 x 160
The altar, cm 220 x 100 x 70
Feaux pietra serena
100 hand-made wax candles
Felt on the altar.
2008